Advanced configuration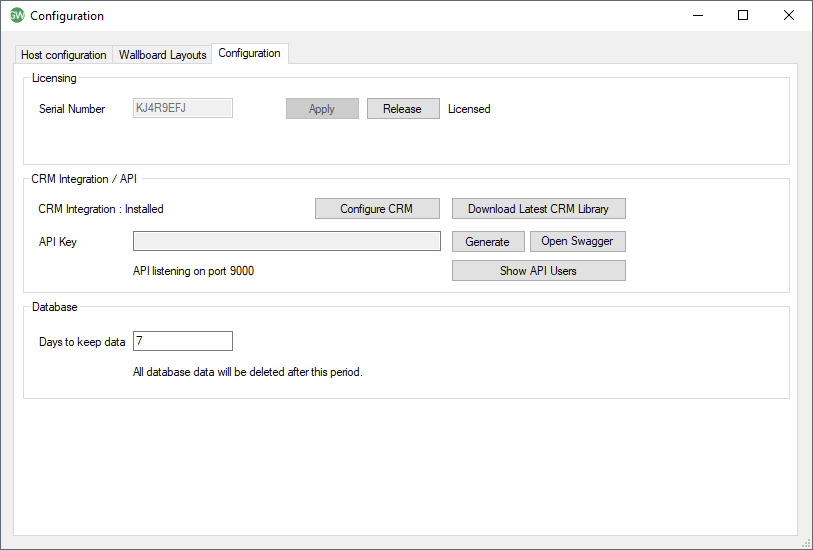 Licensing

:
Serial Number:A license is required to use the product and is provided in the form of an eight digit serial number. To enter the serial number, please go to File -> Configuration and select the tab called 'Licensing'. Enter the serial number and click on 'Apply'. A serial number can contain more than one license and can be used across multiple client PCs. The license is consumed by a combination of the Windows username and PC name.
Release license button:If you have previously registered Go Wallboard and you want to move the software to another computer then you must release the software from the original machine. To do this, press the 'Release license' button and write down the code that you are given.
Before installing Go Wallboard on the new machine, you must make your Go Wallboard maintainer aware that you are moving the license. They will need the serial number and the release code you have been provided.
CRM Integration / API
Configure CRM:Click here to open the CRM Configuration window and add an integration to a support CRM / Business application. This allows data from a CRM to be displayed in Wallboard, for example Caller name. Please click here
Download Latest CRM library:Clicking this will download the latest CRM integration libraries. Note: You can tell if you have the libraries installed as a green circle containing "GW" will show in the system tray.
API key field:Go Wallboard provides an API that can be used by third party apps allowing the user to create sophisticated layouts using their preferred tools and applications. The API is a standard rest API documented using Swagger making it friendly and easy to use by software developers. This field will show the key required to interrogate the API.
Generate:Click this to generate a new API key.
Open Swagger:Please click here to go to Swagger. Swagger is used to document the Go Wallboard API. If you want to test the API through Swagger don't forget to copy and paste the API key into Swagger. Please click here
Show API Users:This will show the IP addresses currently connected to the API. The API requires a license to operate. If all licenses are used, right click on one of the current connections and select "release" if connection is required by another station. Please click here
Database
Days to keep data:Sets the number of days historical data will be retained.