Outgoing As
Introduction
Go Integrator can be enabled to change the number presented to a called party, for an outgoing call made from a BroadWorks Call Center to recipients within the same country*.
Configuring Go Integrator for "Outgoing as"
To configure Outgoing as on Go Integrator Client, select "Call Settings" from the tray menu and navigate to the "Outgoing As" tab and then make the following choices.
IMPORTANT: For this feature to operate as explained below, it is important the Call Center is configured in BroadWorks as detailed in the "Configuring BroadWorks" to "Make call as outgoing as" below.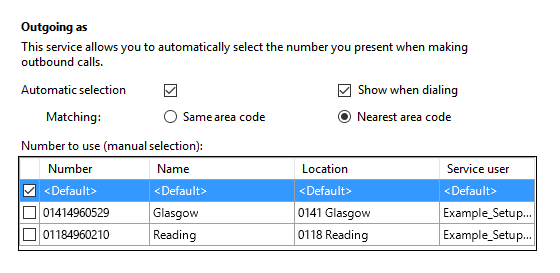 Automatic selection

Selecting this causes the Go Integrator Client to automatically select the call center DNIS number presented to the called party from one of the numbers listed in the grid, using either the "Same area code" or "Nearest area code" matching criteria (see below).
Show When Dialing

When selected, a notification will appear in the bottom left of the screen detailing the Call Center number (DNIS) being presented. Note:Only effective when "Automatic selection" is selected.

Matching

Determines the DNIS number presented based on:
Same area code

:

An exact match between the area code of the dialed number and the area code of a configured Call Center DNIS number
Nearest area code

:

Based on the area code of the nearest (geographically) configured Call Center DNIS number to the area code of the dialed number. When this option is selected and there is an "exact match" then this will take precedence over the geographical calculation.
Number to Use (manual selection)

When "Automatic selection" is not selected, the number presented can be manually selected by ticking the box to the left of the line containing the desired number.
When "Default" is selected, the number presented will be determined by the user's existing BroadWorks configuration, that is, Go Integrator will not affect the number presented.
Configuring BroadWorks to "Make call as outgoing as"
The notes below are intended as a guide only. Please check with your Service Provider if you require more information.
The screenshot below shows the BroadWorks configuration related to the Go Integrator Client "outgoing as" feature. For the feature work in Go Integrator Client there must be at least one DNIS number configured against the call center, the "Make outgoing call as" option must be selected (ticked) and the BroadWorks Call Center type must be Premium.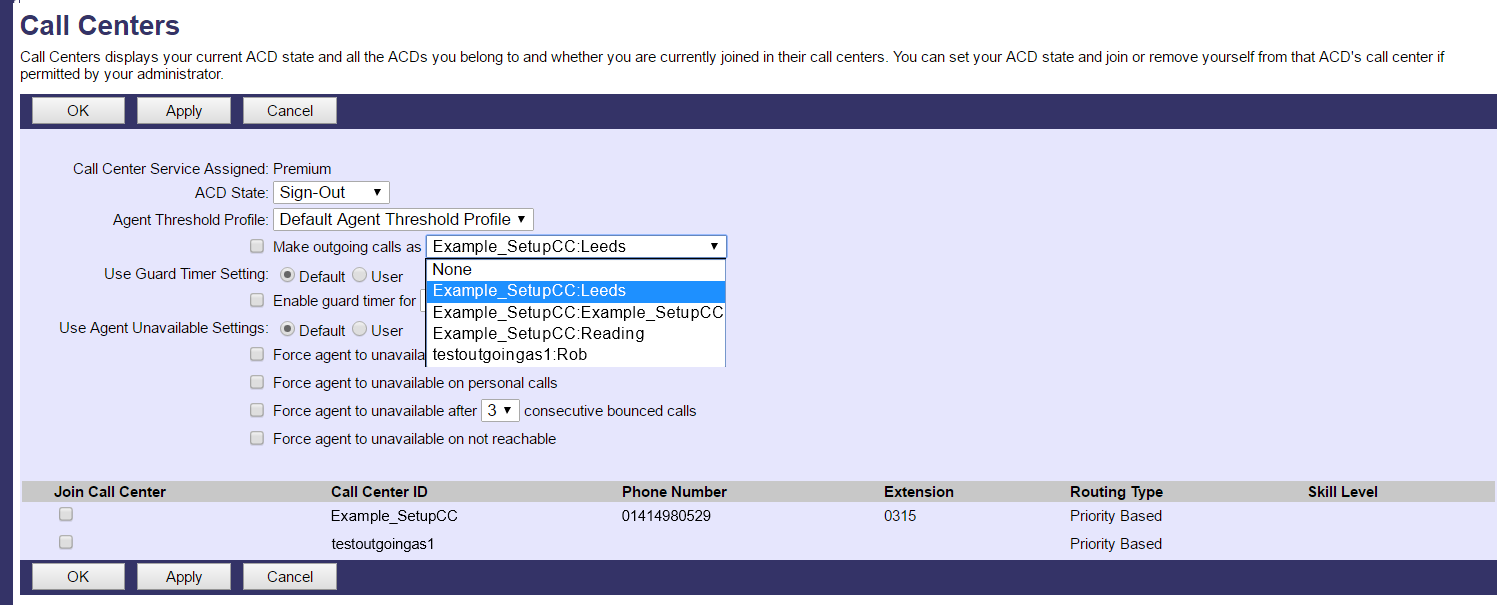 DNIS number are set up from the screens below.