Tray menu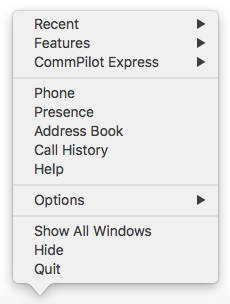 The tray menu is accessed by right-clicking on the Go Integrator icon which is a green circle (or red if you're on a call or yellow if a call is on hold).


Clicking on the icons down the left-hand side of the tray menu displays the various sections of the tray menu.
Menu
From this section, users can access the other parts of Go Integrator by clicking on the appropriate option.
Related topic:Address Book window
Related topic:Call History window
Related topic:Telephony settings
Recent calls
Quickly see recently dialed numbers, and click to redial them.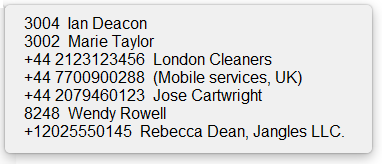 CommPilot Express
The CommPilot* option allows you to quickly select your preferred CommPilot Express profile.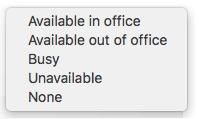 *The CommPilot state will only change for users subscribing to CommPilot Express.
Features
The Features menu provides you with options to control the behavior of your phone. The options available from this menu are "Call settings", "Set Forward All" and "Set Do Not Disturb".

Exit
Use this to unload the software.