Set Advanced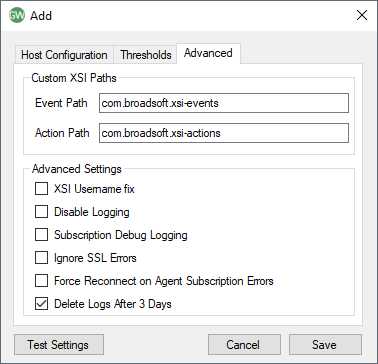 Custom XSI Paths:By default, Go Wallboard assumes the extended URLs for the Broadworks XSP Event and Actions paths are /com.broadsoft.xsi-events and /com.broadsoft.xsi-actions/ respectively. In the event of custom paths for the XSP server please enter these here. For example the Event Path might be uk.myvoip.xsi-events and the Action Path uk.myvoip.xsi-actions.
XSI Username Fix:In some instances the Broadworks XSP does not return fully qualified user information when Go Wallboard first collects the information required to complete its connection. In such instances ticking the "XSI Username fix" option may correct the issue. This setting should not normally be selected.
Disable Logging:Turn off Go Wallboard logging.
Subscription Debug Logging:If having issues with some or all agents not reporting correctly this option can be enabled to show a pop-up detailing any errors.
Ignore SSL Errors:Ignore SSL certificate errors If XSI or Proxy has expired SSL certificates.
Force Reconnect on Agent Subscription Errors:If having problems with subscriptions this will force re connection.
Delete Logs After 3 Days:Enabled by default, you can turn it off when debugging an issue and do not need it to remove older logs.