"

Full screen mode

"

When using GI-CE with browser applications (e.g. Salesforce) it may be more common to use it in "Full screen mode" i.e. as a tab in a maximized browser window. To switch to GI-CE from another browser tab, simply click on the GI-CE icon in the browser toolbar and select the feature you want (e.g. Presence). This will take you straight to the right place in the GI-CE browser tab.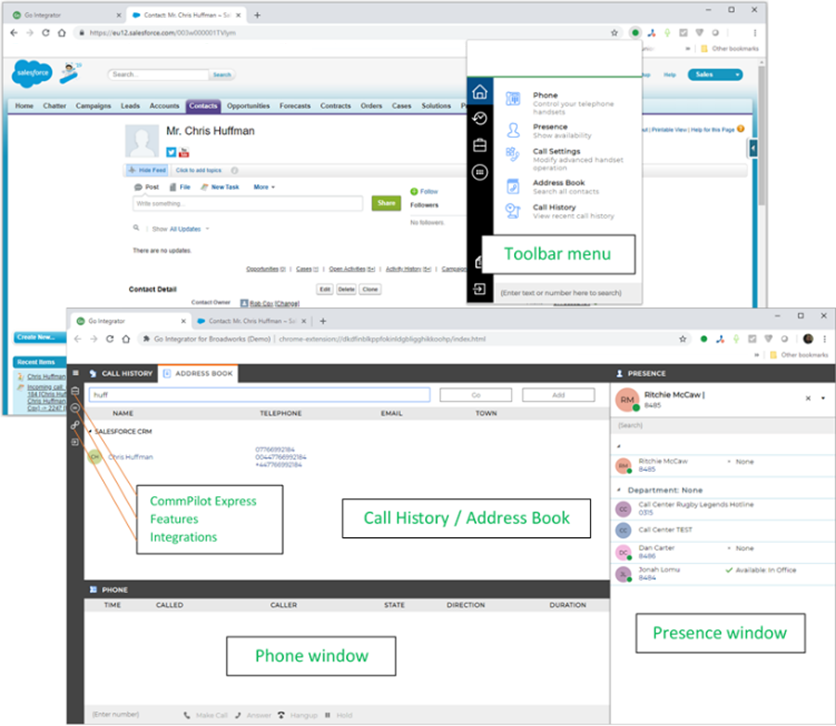 ---
"

Compact mode

"

When using GI-CE with desktop (non-browser) applications it can be very effective to use it as a standalone browser window set to its minimum width.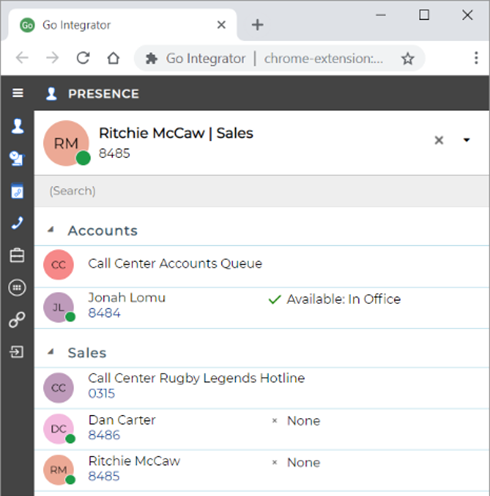 Making calls
Making calls from your computer is straightforward with Go Integrator CE for Broadworks. It will increase your productivity by saving you time and reducing the number of misdialed numbers.
---
Receiving calls
Go Integrator CE for Broadworks can be used to tell you who is calling before you answer the phone. This can prove beneficial in many ways.
When you are busy working on a project it can allow you to be selective about which calls to answer. Also, it can allow you to greet the caller in a more personal way. When receiving a call it is very easy to store the caller's name for future use. Also with CRM integration, callers' details are quickly searched and displayed.
---
Transfering calls
Go Integrator CE for Broadworks provides an easy method to transfer calls. Through the Presence window it allows users to see the availability of their colleagues and make intelligent decisions when transferring calls.
Users can perform an immediate transfer to quickly distribute calls. Or they can easily use Go Integrator CE for Broadworks to consult with colleagues and switch between calls.
Go Integrator CE supports two separate ways of dialing from web pages.
Web pages can be scanned for valid telephone numbers and, when found, they are turned into hyperlinks to make dialing easy. Also, Go Integrator CE can be configured to provide dialing directly from many web-based CRM packages.
Go Integrator CE Presence provides a quick way to check the availability of your co-workers. The Presence window is accessible from the tray menu.
-Check status of a colleague's extension in the Presence window
-BLF circle also indicates DND and Forwarding (when set)
-Call and transfer calls to colleagues straight from the Presence window
-Current version is limited to monitoring 500 users
Go Integrator CE benefits from many of the same features as the desktop client including:
-Searching of Broadworks Group and Common directories
-Reading and update of Personal Phone List
-Configuration of Anywhere, Remote office, CommPilot Express
-Setting of CommPilot Express, DND and Call Forward
-Recent calls and Call history