As of April 16, 2020 SARS-CoV-2 Response
We are committed to the safety and health of all our Worldwide Employees and Customers and will endeavour to follow all guidelines of Centers for Disease Control and Prevention (CDC), Public Health England and applicable local governments. During this time all our global teams will be following Work-From-Home directives and will continue to work normal business hours. We apologize for any delay in responses and appreciate your understanding.
"

Volledig Scherm Modus

"

Bij gebruik van GI-CE met browserapplicaties (bijv. Salesforce) kan het gebruikelijker zijn om het in "Volledig scherm modus" te gebruiken, dwz als een tabblad in een gemaximaliseerd browservenster. Om van een ander browsertabblad naar GI-CE over te schakelen, klikt u eenvoudig op het GI-CE pictogram in de browser werkbalk en selecteert u de gewenste functie (bijvoorbeeld Aanwezigheid). Hiermee gaat u rechtstreeks naar de juiste plaats op het GI-CE browser tabblad.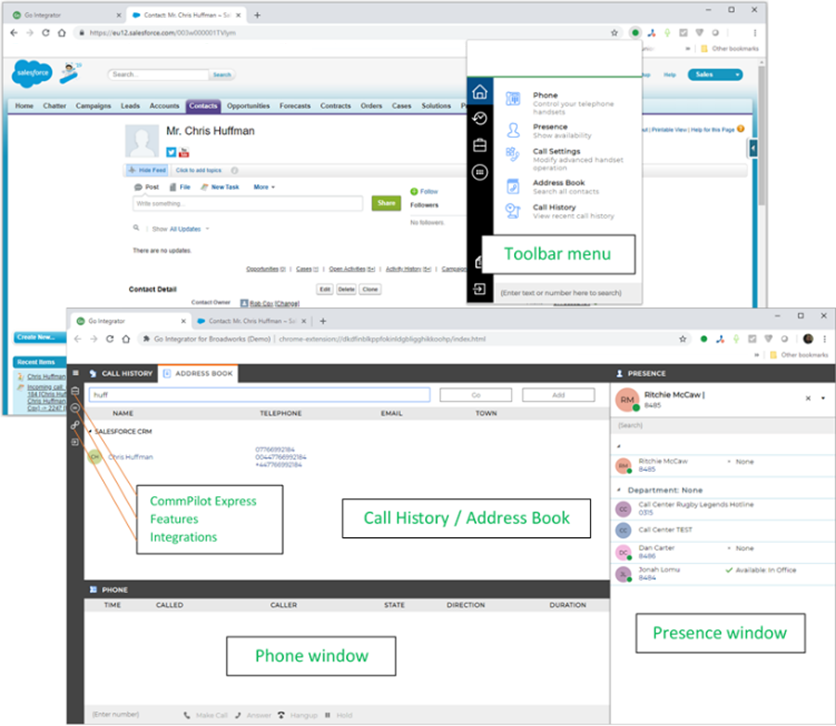 ---
"

Compact Modus

"

When using GI-CE with desktop (non-browser) applications it can be very effective to use it as a standalone browser window set to its minimum width.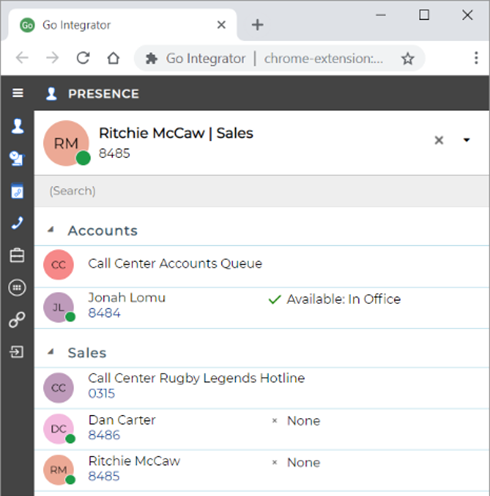 Telefoongesprek starten
Telefoongesprek starten vanaf uw computer is eenvoudig met Go Integrator CE voor Broadworks. Het zal uw productiviteit verhogen door tijdbesparing en het verminderen van het aantal verkeerd gekozen telefoonnummers.
---
Gebeld worden
Go Integrator CE for Broadworks can be used to tell you who is calling before you answer the phone. Dit kan gunstig zijn op vele manieren.
Wanneer u druk bezig bent met een project kunt u selectief bepalen welke oproep u wilt beantwoorden. Ook kunt u zo de beller op een meer persoonlijke manier begroeten. Bij ontvangst van een oproep is het zeer gemakkelijk om de naam van de beller op te slaan voor toekomstig gebruik. Ook met CRM-integratie, worden de gegevens van bellers snel gezocht en weergegeven.
---
Het doorverbinden van gesprekken
Go Integrator CE voor Broadworks biedt een eenvoudige methode om gesprekken door te verbinden. Het Aanwezigheidscherm stelt de gebruiker in staat om de beschikbaarheid van hun collega's te zien en snel beslissingen nemen naar wie een gesprek door te verbinden.
Gebruikers kunnen blind doorverbinden om snel gesprekken af te handelen. Of ze kunnen eenvoudig gebruik maken van Go Integrator CE voor Broadworks om te overleggen met collega's en te schakelen tussen gesprekken.
Go Integrator CE ondersteunt twee manieren om te bellen vanuit webpagina's.
Webpagina's kunnen worden gescand op geldige telefoonnummers, deze worden omgezet in hyperlinks om eenvoudig te kunnen bellen. Ook kan Go Integrator CE worden geconfigureerd om rechtstreeks te bellen uit vele web-based CRM-pakketten.
Go Integrator CE Presence provides a quick way to check the availability of your co-workers. The Presence window is accessible from the tray menu.
-Check status of a colleague's extension in the Presence window
-BLF circle also indicates DND and Forwarding (when set)
-Call and transfer calls to colleagues straight from the Presence window
-Current version is limited to monitoring 250 users (expect to raise to 500 for final release candidate)
Go Integrator CE benefits from many of the same features as the desktop client including:
-Searching of Broadworks Group and Common directories
-Reading and update of Personal Phone List
-Configuration of Anywhere, Remote office, CommPilot Express
-Setting of CommPilot Express, DND and Call Forward
-Recent calls and Call history