As of April 16, 2020 SARS-CoV-2 Response
We are committed to the safety and health of all our Worldwide Employees and Customers and will endeavour to follow all guidelines of Centers for Disease Control and Prevention (CDC), Public Health England and applicable local governments. During this time all our global teams will be following Work-From-Home directives and will continue to work normal business hours. We apologize for any delay in responses and appreciate your understanding.
Go TAPI is delivered as standalone installation disks and, once installed, provides a convenient utility available from the Windows system tray for configuration and monitoring of the driver.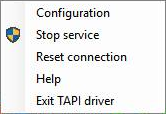 The driver can be configured to work in first party (client side) or third party (server side) mode. A Go TAPI license type is required (delivered as an 8 digit license key) which is consumed by the PC the software is installed on. In first party mode a license key will contain a single license and in the third party mode multiple licenses will be included in the license key.