As of April 16, 2020 SARS-CoV-2 Response
We are committed to the safety and health of all our Worldwide Employees and Customers and will endeavour to follow all guidelines of Centers for Disease Control and Prevention (CDC), Public Health England and applicable local governments. During this time all our global teams will be following Work-From-Home directives and will continue to work normal business hours. We apologize for any delay in responses and appreciate your understanding.
Go TAPI wordt geleverd als standalone installatie schijven en, eenmaal geïnstalleerd, levert een geschikt hulpprogramma dat beschikbaar is vanuit het systeemmenu van Windows voor configuratie en het in de gaten houden van het besturingsbestand.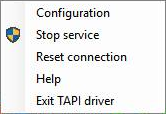 Het besturingsbestand kan worden geconfigureerd om te werken in first party (client kant) of third party (server kant) modus. Een Go TAPI licentie type is vereist (geleverd als een 8 cijferige licentie sleutel) welke is verbruikt door de PC waar de software op geïnstalleerd is. In first party modus zal een licentie sleutel een enkele licentie bevatten en in third party modus zullen meerdere licenties zijn opgenomen in de licentie sleutel.