As of April 16, 2020 SARS-CoV-2 Response
We are committed to the safety and health of all our Worldwide Employees and Customers and will endeavour to follow all guidelines of Centers for Disease Control and Prevention (CDC), Public Health England and applicable local governments. During this time all our global teams will be following Work-From-Home directives and will continue to work normal business hours. We apologize for any delay in responses and appreciate your understanding.
Go TAPI viene consegnato sotto forma di dischi di installazione indipendenti e, una volta installato, fornisce un utility conveniente disponibile dalla barra delle applicazioni di Windows per la configurazione e il monitoraggio del driver.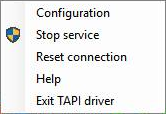 Il driver può essere configurato per lavorare in modalità prima persona (lato client) o in modalità terze parti (lato server). È richiesto un tipo di licenza Go TAPI (consegnato come chiave di licenza a 8 cifre) che viene consumato dal PC sul quale è installato il software. Nella modalità in prima persona una chiave di licenza contiene una singola licenza e nella modalità terze parti più licenze sono incluse nella chiave di licenza.