As of April 16, 2020 SARS-CoV-2 Response
We are committed to the safety and health of all our Worldwide Employees and Customers and will endeavour to follow all guidelines of Centers for Disease Control and Prevention (CDC), Public Health England and applicable local governments. During this time all our global teams will be following Work-From-Home directives and will continue to work normal business hours. We apologize for any delay in responses and appreciate your understanding.
Go TAPI se entrega como archivos de instalación independientes y, una vez instalado proporciona una utilidad conveniente disponible en la bandeja del sistema de Windows para la configuración y monitoreo del controlador.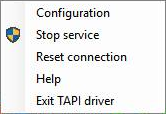 El controlador se puede configurar para que funcione en el modo de first party (cliente) o third party (servidor). Se requiere un tipo de licencia Go TAPI (se entrega una clave de licencia de 8 dígitos) que se consume en el PC en el que está instalado el software. En el modo first party, una clave de licencia contendrá una sola licencia y en el modo de third party se incluirán varias licencias en la clave de licencia.