As of April 16, 2020 SARS-CoV-2 Response
We are committed to the safety and health of all our Worldwide Employees and Customers and will endeavour to follow all guidelines of Centers for Disease Control and Prevention (CDC), Public Health England and applicable local governments. During this time all our global teams will be following Work-From-Home directives and will continue to work normal business hours. We apologize for any delay in responses and appreciate your understanding.
Go TAPI wird als autonomer Installationsdatenträger ausgeliefert und bietet nach der Installation ein einfach zu bedienendes Programm, das in der Windows-Taskleiste zur Konfiguration und Steuerung des Treibers zur Verfügung steht.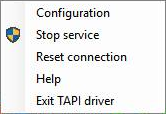 Der Treiber kann so konfiguriert werden, dass er im First-Party-Modus (Client-Modus) oder Third-Party-Modus (Server-Modus) arbeitet. Es wird ein Go TAPI Lizenztyp benötigt (ausgeliefert als 8-stelliger Lizenzschlüssel), der vom PC verbraucht wird, auf dem die Software installiert ist. Im First-Party-Modus enthält ein Lizenzschlüssel eine einzige Lizenz, während im Third-Party-Modus mehrere Lizenzen im Lizenzschlüssel beinhaltet sind.